This is a Sponsored post written by me on behalf of Scotts Miracle-Gro for SocialSpark. All opinions are 100% mine.
     Time to consider what you want to do to beautify your property again this year.  It is that time again, time to get out those gardening supplies and dress up your property.  Get out your spade, hoe, rake and wheelbarrow and work to make your property beautiful.  Turn over the soil with that spade, break it up with the hoe, add some of Scotts Continuous Release Plant Food and work it into your soil with your garden rake; then you are ready to plant those gorgeous flowers to turn your property into your own special haven.  Allow your plants about two weeks to become thoroughly rooted, after which you will want to find the best available mulch to hold water and keep weeds from growing.  Using the best mulch for your garden will lessen your work and allow you to have more beautiful gardens. 
     For Floridians, Scotts Florida Select Natural Eucalyptus Mulch is a great, locally grown mulch that will help you create beautiful gardens for your property.  Since this mulch is locally grown and harvested, Floridians that purchase this mulch will be supporting their own local economy.  Not only does this mulch have the advantage of supporting the home economy, it also provides the advantage of sustainable gardening.  Since it grows four times faster than cypress, it is considered a sustainable resource.  A completely natural mulch guaranteed to be free of any construction products, pallets or other waste materials, Scotts  mulch will prevent the growth of weeds while holding water and moderating temperature.  Place Scotts mulch around trees, plants and bushes about three inches deep.  Keep mulch about three inches away from base of trees and the foundation of houses.  Make your property more attractive this spring by using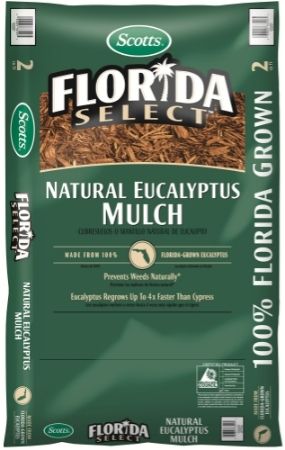 .  For those gardeners who do not live in Florida,  Scotts Nature Scapes mulch is an attractive alternative.  Scotts Nature Scapes come in three attractive colors:  black, forest brown and sierra red.  A 2 cubic foot bag of mulch will cover 12 square feet when spread two inches thick while it will cover 8 square feet when spread three inches thick as recommended.  Proper use of a good mulch will make your gardens more attractive this year at the same time reducing your work throughout spring and summer.